Hey! First of all, to those whoe care and expected something: sorry for not posting anything last Wednesday, but I was totally knackered from work, had a horrible week and couldn't think of anything fun, interesting or uplifting to post.
So, what now…as my vacation draws near, it's probably time to start thinking some things through, planning stuff, booking hotels for the nights I haven't yet. Maybe. Or maybe I'll just wing some of these, but I don't exactly feel comfortable with that unless I KNOW I'll find something in time.
My great U.S. west coast road trip is booked. The plan is more or less fixed.
I will start on May 11th, flying into Seattle, picking up a rental car and staying there for three nights. I'll try to meet up with a few twitter friends there who shall remain nameless.
On one of the full days I'll spend there, I'll be treating myself to something special.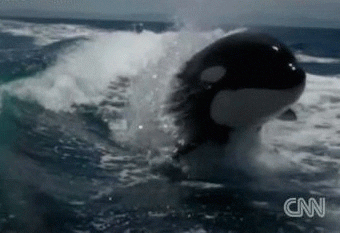 I booked a whalewatching trip including a flight from Seattle to San Juan Islands in back with a seaplane!
Besides hopefully spending a lot of time with awesome people who I will pester some more soon, what else should I do in Seattle? Anyone know if it is worth to go up and have dinner on top of the Space Needle? Maybe someone wants to join me? If the weather is good, I'll want to go up anyway, not sure if dinner there is nothing but a tourist trap, but then…who cares? I don't mind doing stuff just because it's a novelty.
Suggestions and commentary is appreciated!
After Seattle I'll drive south past Portland (unless I find an absolute must-see before fixing this part), probably down to Grant's Pass or Eugene, Oregon. I thought about doing a detour to Crater Lake, but their website led me to believe that this early I'm at a serious risk of too much snow and everything being closed. Although I'd LOVE to see it.
Then on to Eureka, CA and Sacramento a day later, a bit along the coast and through the Redwoods State Parks.
From Sacramento I might go gold panning or even do a probably exhausting day trip to Yosemite with another twitter friend! After that it's San Francisco for a few days, Alcatraz, maybe meet the final twitter friend for this trip, the Golden Gate, that sort of stuff.
Thus ends the road trip part of this vacation and I'll fly to Maui. Snorkeling and exploring the island. Take billions of pictures. That sort of stuff.
As I write this, it's 89 days and 17 hours to wheels-up!